About us
Don Bosco Technical Secondary School is an institution started and run by the Salesians of Don Bosco, a congregation in the catholic church. It is located along Kiritiri Road, which is approximately 7 km from Embu town, Kenya. Since January 1986 the school has grown to become a big institution. Besides the secondary school, a Technical Institute to provide technical education has been established. The technical skills that are imparted following the 8-4-4 system have enabled many poor boys to find their place in the society. All the students are boarders. When a student completes his education at Don Bosco, he goes out with his K.C.S.E certificate and a certificate in the trade test. This enables the students to be empowered, so as to apply their technical skills in their respective fields.
Goodness and Wisdom
To be a "Model School of Live" That Educates and Evangelizes
In the Charism of Don Bosco The Ghospel of Christ
In an atmosphere of Family Guided by Goodness and Wisdom We journey togehter for Holistic Formation & Academic Excellence
By living Holy & Significant Lives And by sharing our gifts as Good Christians and Responsible Citizens
Don Bosco Technical Secondary School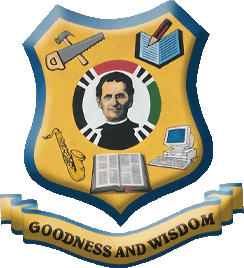 We, the Salesians/Teachers/Workers of Don Bosco Technical Secondary School, in the Salesian Province of Eastern Africa, believe that we have been called and sent by God to empower these young entrusted to us especially the marginalised -those materially poor, street boys/girls, orphans, addicts -in the charismatic style of Don Bosco.
As a Don Bosco Technical Secondary School, catering to young men, we have an added responsibility in making ourselves at home in the cultures of our youngsters so as to be able to understand them and effectively incarnate the charism of Don Bosco in this school.
Our ministry to the young shall aim at building in them hope which emanates from our example of Christ and the Gospel values we witness to. We prepare them for life with academic, social and spiritual excellence as well as with skills for a life of dignity and discipline. In doing so we prepare them as good citizens of God and Country. We consider formation to faith, respect, love, justice, freedom, and peace to be of, primary importance.
We strive daily to be aware that the charism of Don Bosco will be effective only when we are people of deep spirituality and professional competence, living a joyful community life marked by a simple and transparent life style of collaboration and witness. This will make us genuine witness of the gospel value to those we are sent to in Don Bosco Technical Secondary school.
Good morning
Twice a week we start the day together as a community. Talks are given and new information is communicated.
Learning
Studies is our core business and as such, time for class is taken very seriously. We do learn as a team.
Physical Education
We are happy being involved in a variety of co-curricular activities, which is a requirement by the ministry.
Talents
We can search for our individual talents and promote them to their full potential.
Don Bosco Technical Institute
Don Bosco Technical Institute has various activities. Its objective is to impact technical skills to the students enrolled in the various trades to enable them advance in their future careers. The technical skills gained, are important, especially for those who aim at being successful entrepreneurs.
Don Bosco Embu as an institution offers the following courses that impart technical skills on the students; these are the same trades that are needed in the Kenyan industries
The students are involved in the whole production process up until orders are made and delivered. They get to see the products of their work sold to the customers which is a motivating factor.
Carpentry and Joinery
By the end of the course you will have sound knowledge on hand tools use, construction of furniture, roofs, stairs, site work, repair and basic machines Requirement: Class 8 and above
Masonry
By the end of the course you will have sound knowledge of the correct use of masonry hand tools and equipment, safety and maintenance, production of bricks, blocks, concrete structures and stones dressing. Requirement: Class 8 and above
Motor Vehicle Mechanic
By the end of the course you will have sound knowledge on how to service, repair and maintain the most common vehicles. You will also have basic knowledge of gas welding and spraying process. Requirement: Form Four or any metal related skill course. We offer driving course.
Welding Technology
By the end of the course you will have sound knowledge and skills on hand tools use and maintenance, metal fabrication of door and windows and all types in Welding technology. Requirement: Form 4
Electrical Wireman
By the end of the course you will have sound knowledge on how to install and repair domestic electric appliances (i.e. solar panels), and a basic knowledge on installation of industrial appliances. Requirement: Form 4
Mechanical Engineering
By the end of the course you will have acquired skills, use and maintenance of a lathe machine and all it's tools. You will be able to do all types of jobs, i.e. threading, cutting gears and keys, making pulleys and hinges, etc. You will also practice on milling machine and shaping machine. Requirement: Form 4
Cabinet Making
By the end of the course you will have sound knowledge on hand tools use, machines, making of household, office furniture in high grade work such as making, reproduction and repair of all kinds of furniture. Requirement: Certificate in Carpentry & Joinery
Coming soon: Plumbing
By the end of the course you will be able to plan and install piping systems. You will have theoretical and practical skills about piping water as well as gas installations in buildings. Requirement: Class 8.
Don Bosco Production Unit
The Don Bosco Production unit is attached to our Technical Institute as a platform for the students to practice their skills in a real production environment. The proceeds help in sustaining the Institute and by extension the Secondary School. The unit endeavors to produce high quality service through:
Qualified staff – continuous capacity building
Having the right and sophisticated machines for each task
Modern high skills technology
Reliable Customer oriented service delivery
Quality raw materials
Affordable prices
You can order products in areas of household, office and church furniture and of high quality at affordable price. Our products are sold to clientele in the surrounding community such as Churches, county government, companies in Embu town and beyond.
Wood workshop
We produce furnitures such as tables, couches, chairs, cabinetts, hangars, beds, pews and any other wooden products.
Metal workshop
We produce a lot of metal related stuff such as gates, doors, windows, screws, bolts, nuts, nails etc. We also do repairs and maintenance.
Building technology
We mold and offer interlocking bricks. The bricks use very little cement for joining and provide space for piping through the wall.
Installations
We do house piping for water and gas as well as any kind of cable installations for electricity, computer networks and antennas.